CHANGE to the village

one CHILD at a time

HELPING children

stay in SCHOOL

creating GIRLS

and BOYS soccer leagues

encouraging READING

and SCHOOL achievement
Testimonials
Poem - THE BALL
THE BALL
What a ball,what a ball!
A ball with wings .
It can fly from one continent to another.
From America to Africa.
What a ball, what a ball!
It has the power to attract learners who dropped out of school to start school again.
What a ball, what a ball!
A feet is now safe from debris waiting to attack during sports.
What a ball, what a ball!
A ball that has provided boots for me.
What a ball, what a ball!
A ball that has destroyed gender barriers.
Female learners are able to play soccer with male learners.
What a ball, what a ball
It is an enemy of illiteracy.
What a ball, what a ball!
It has imparted female learners with skills of defending themselves against sexual harassment.
What a ball, what a ball!
It has now visited standard one to four learners. In the past they could only hear about it.
What is this ball? what is this ball?
This ball is banda bola sports foundation. This ball is bandabola sports foundation.
Letter from the Head Teacher
December 2007
To: Coach Banda
Re: In Appreciation for the Gifts
On behalf of the institution, but more so on my behalf, I have to express my heartfelt gratitude for the resources that we have received. We thank you for the kindness and concern that you have demonstrated to us, in promoting the Malawian Education for the children of Chituka in particular.
This is very rare for even the most well to do families in societies. We were indeed in great need of the resources that have been received through your affection. To be frank, you deserve credit from my government. It is impossible for only the government to sufficiently supply all our needs to support learning in most Malawian Schools today. Many children have been enrolled through the Free Primary Education System.
You may also wish to know that Malawi as a country has experienced much famine. This cannot encourage parents to think of buying some learning materials. They simply use the money they find to buy some food for the family while neglecting the education side.
So with your supplying these resources for our school, you have relieved the parents from the burden. You have been so patriotic to the people of your homeland. This is what Nehemiah in the Bible did when he was in a foreign country. See Nehemiah 2:1-6.
Another crucial problem is of under staffing. There are five teachers against 500 to about 600 pupils. Due to the lack of staff, students in 8th grade have not had access to teachers to help them prepare for the standardized testing required to move into the 9th grade. Not a single student has passed this exam for several years. Parents employ some volunteer teachers, who in turn get K1,500.00 ($12.00) a month for their service. The attached paper is for the names of the teachers and their particulars.
May you extend this gratitude to all those share this concern for our well being here at Chituka. May God bless your profession and the family. We wish you a safe trip back to America.
Thanks,
J.R. Phiri
Head Teacher
Malenga Mzoma F.P. School
P.O. Box 16 Chituka
Nkhata Bay, Malawi
C. Africa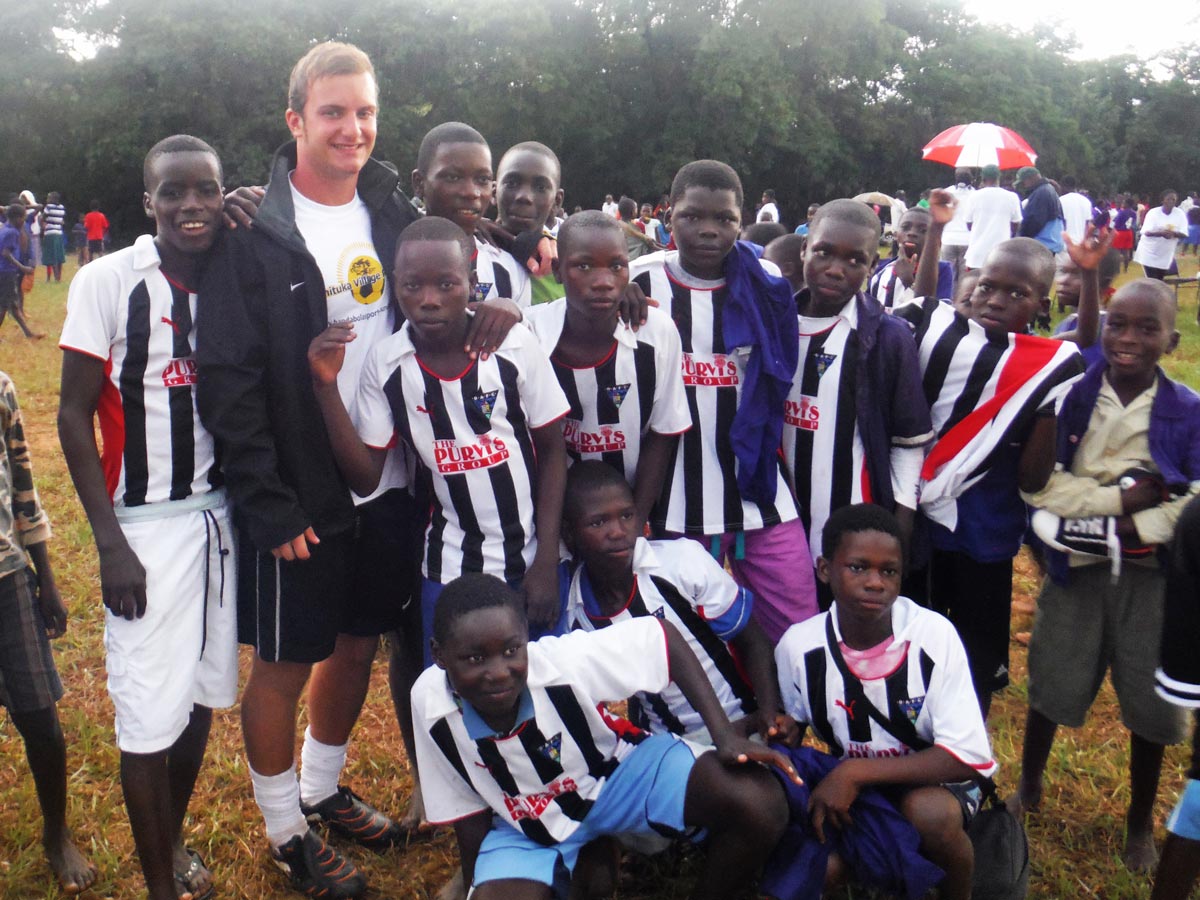 Madison's VoVacation
"During January 2014 I traveled to Malawi to help young children of the Nkhata Bay district. As a volunteer for the Banda Bola Sports Foundation I gave technical sessions, distributed supplies, and enhanced the education of the underprivileged. Those two weeks in January, for which I had mentally prepared for charity work, turned out to be more educational and more fun than I could have ever expected. In addition to the joy of working with tremendously grateful kids, I was able to explore an engaging culture and absorb the multitude of different experiences the beautiful country of Malawi had to offer. Most importantly, what I learned from my time in "The Warm Heart of Africa" will stay with me for life.

Banda Bola is a unique foundation that has a real impact on the lives of children in the Malawi. By establishing a league where children must go to school in order to be involved Kalekeni Banda is providing a much needed incentive for young people to attend and learn. Education is not mandated in Malawi so there are high levels of children who never receive basic schooling. Furthermore, the program provides after school lessons in addition soccer training so the kids are able to develop on the field and in the classroom. As a reward, they gain invaluable knowledge and receive much needed materials for sports and school such as notebooks, pens, soccer balls, and athletic clothing collected from the United States.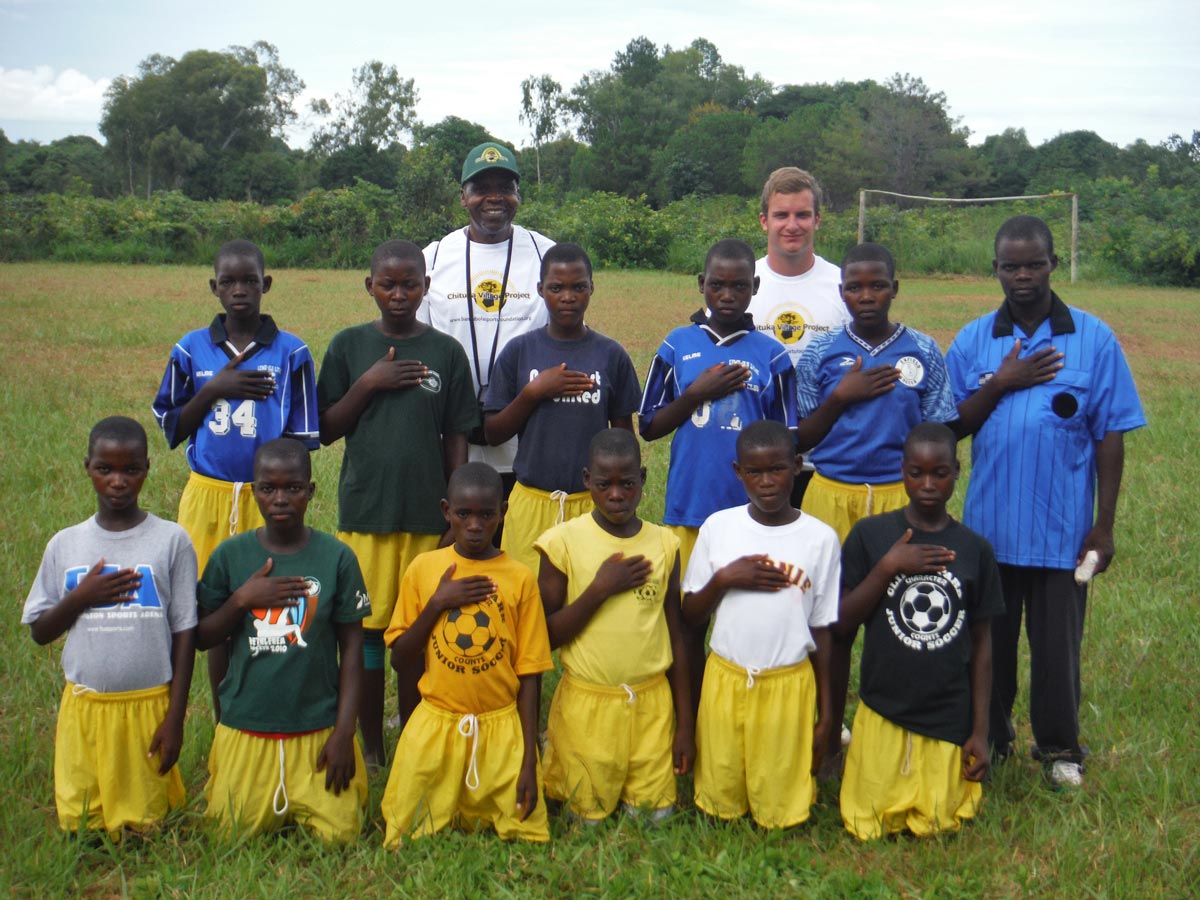 What makes the Chituka Village Project so special, as a volunteer, is the tangible and visible effect of the volunteer's efforts. You can see the kids smile with joy as they sport their new jersey and watch them energetically perform a new drill which you taught them. At Chituka field I taught goalkeeping technique, as it is my position, and I saw, first hand, players enjoying a position which was generally neglected. Many young goalkeepers were inspired that day. In particular, one young person came up to me and asked for personal training the rest of the time I was there because he wanted to play in the Malawi Super League one day. I worked with him several times on specialized techniques and he was visibly improving from session to session. Over that time we developed a friendship and we still keep in weekly contact over the phone so I can stay up to date on how he is doing personally and with his attempts at going pro. It is experiences like these which personally touch you and make volunteering for the Chituka Village Project much more than typical NGO work.

To call traveling to Malawi and instructing kids "volunteer work" does not do the experience justice. The fun I had playing soccer, swimming in the gorgeous Lake Malawi, hiking Mt. Mulanje, meeting interesting people, eating delicious local food, traveling through cities like Blantyre and Mzuzu, and seeing a vastly different country only added to the joy of helping the children. What I had originally labeled as a volunteer trip was almost more of a vacation, a volunteer vacation, a VoVacation! In fact, I already have plans to return to continue educating and learning. To anyone looking for a valuable experience unlike any other I would highly recommend Banda Bola Sports Foundation."
- Madison W.
Malenga Mzoma School Committee Member
"I would like to utter my evidence on how the program of Banda Bola Sports Foundation after school (program) has worked.
The decision made will infuse new ideas that should usher in much needed change that our learners as well as guardians are looking for. This program has brought a tremendous change on children/learners at Malenga Mzoma school, mainly those who attended after school program, because learners were unable to say alphabet and now they are able to... It has also changed the behavior of learners, mainly boys, consuming beer (sachets) before or after school. Now with this program learners know classroom conduct which is respect, no touching one another in a classroom, no pushing, no stealing, no fighting and no lies. They know three Ls which are Look, Listen and Learn.
This program has brought a dramatic change to our learners of Malenga Mzoma School and the surrounding areas and schools as well.
I therefore accord to what is happening at our school for this organization which is a non-profit and thereby assisting the community as a whole through helping school in sports and education and also needy children there eradicating poverty.
I appreciate coach Kalekeni Banda as president of Banda Bola Sports Foundation for the job well done. Although he has all the power to enable him to gain riches, but Banda Bola did not exploit this for self-aggrandisement. He lives a simple and humble life, probably beyond our imagination. Yes, it is still beyond our imagination because the community has seen how other organizations (owners) exploiting organizations to enrich themselves.
It's my appeal to you all well wishes in the USA and beyond to keep assisting/supporting Banda Bola Sports Foundation as well as the people of Chituka and Malawi as a whole. God bless you all abundantly. Bravo, bravo Coach Banda. God shower his blessings out onto you and add more days in your life..."
- Lhoti M.
After School Mentorship Supervisor
"My name is Blessings, supervisor for after school mentorship programme. My duty this afternoon is to outline the activities of the afternoon programme.
The after school programme primarily is there to help children learn to read English and do maths. Why English? At Banda Bola we believe that if a child is able to read and understand English, he/she stands a better chance of doing well in the other subjects too. Since all subjects, except Chichewa, are examined in English.
Here at Banda Bola after school mentorship programme we complement the morning school by doing revision with the children of what they learn in the morning.
At Banda Bola we aim to make education interesting for children by providing different games and sports. We also provide educational materials such as exercise books, pens, pencils, rulers and other books relevant to education. The most needy are provided with clothes, shoes and uniforms.
Children are taught basic learning skills of the three Ls. Look, Listen and Learn.
Volunteers also have the opportunity of sharing their skills and experience with the children thereby developing leadership and organizational skills.
In short Banda Bola after school mentorship programme is a very important initiative worth supporting. At Banda Bola after school mentorship programme children always come first. We will strive to ensure that those children we register are retained in school and graduate with at least a primary school learning certificate.
Our prayer to God is that is that he continues showering his mercies on our beloved brother Kalekeni and his partners in the USA and elsewhere so that this programme grows from strength to strength.
We are proud to be associated with this programme.
Long live Banda Bola Sports Foundation."
- Blessings B.
A Testimony of What the Banda Bola Sports Foundation Has Done to Malenga Mzoma School
"It is my heart felt conviction of what the foundation has contributed to the learners of my school. Before the foundation came to this institution, most learners had problem to understand English. With the introduction of the after school mentoring program, some learners can at least communicate in English now.
This initiative has promoted learning interest in most learners. The attendance and retention of learners have improved for the better.
Parents in the community have understood the value of education such that they encourage their children to join the Band Bola program. It is my hope that graduation by most learners will be attained. Long live Banda Bola, long live the Sports Foundation."
- J.R. Phiri
Headmaster
Student's Testimony
"Dear Sir,
I just want to say thank you for everything that you have done for me."
- Tamala M.
About Malawi
Malawi, officially the Republic of Malawi, is a landlocked country in southeast Africa that was formerly known as Nyasaland. It is bordered by Zambia to the northwest, Tanzania to the northeast, and Mozambique on the east, south and west.
The country is separated from Tanzania and Mozambique by Lake Malawi. Malawi is over 118,000 km2 (45,560 sq mi) with an estimated population of 16,777,547 (July 2013 est.). Its capital is Lilongwe, which is also Malawi's largest city; the second largest is Blantyre and the third is Mzuzu.
The name Malawi comes from the Maravi, an old name of the Nyanja people that inhabit the area. The country is also nicknamed "The Warm Heart of Africa".