During December 2007 and January 2008, I visited my village of Chituka in Malawi, Africa. I brought soccer equipment and school supplies to the children there, as well as to young people in surrounding villages. The children felt blessed to receive these gifts, and the smiles on their faces revealed their joy.
We cannot continue to provide these simple blessings without your help. Malenga Mzoma Primary School alone has 500-600 students in grades 1 through 8. Bandawe Primary School, Macalpine Primary School, and Chifira Primary School have equal numbers.
We ask you to consider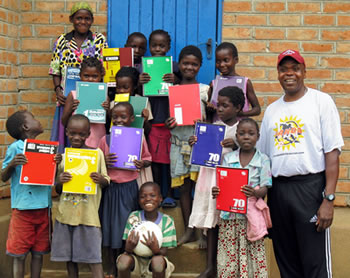 the deep impact these gifts provide for the children, an impact that lasts a lifetime. Please help us continue this work through your gifts to the Banda Bola Sports Foundation-Chituka Village Project. Monetary gifts and donations of all sizes are needed and appreciated.
I thank you from the bottom of my heart.
Banda