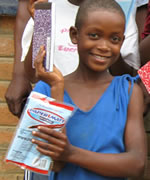 Banda Bola Sports Foundation is a 501 (c)(3) nonprofit organization dedicated to transforming the lives of rural children in Chituka Village, Malawi and the surrounding area. The foundation mission is to motivate and prepare children to attend school and improve their lives. Our programs are designed for children who are poor and neglected. Our hope is to encourage young boys and girls to visualize, comprehend and even marvel at the opportunity for growth in their personal lives.
The Purpose of our Foundation
To encourage children in Malawi, Africa to attend school by providing after school sports programs.
To accumulate and raise funds for the acquisition of school supplies and sports equipment in order to enable children with limited financial ability in Malawi, Africa to attend school and participate in sports.
To promote, encourage and educate children in Malawi, Africa in the principles of athletics, sportsmanship, and teamwork.
Mission:
The mission of Banda Bola Sports Foundation, Inc. ("Banda Bola") is to provide support and service to the village youth in Malawi, Africa. These activities will be dedicated to and focused on improving the current and future standard of living for children in these areas. Specific focus areas will include promoting education, health and welfare. Banda Bola's goals are to (a) provide after school sports and education mentoring programs for children in Malawi; and (b) enable Malawi children of limited financial means to attend school and participate in sports with proper financial support, school supplies and sports equipment.
Goals & Objectives:
Banda Bola Sports Foundation was established to provide after school mentoring and sports activities for children with limited access to primary school education. Presently, over 40 primary schools in Nkhata Bay South are receiving our support. The Foundation will create partnerships with Mzuzu University, local secondary schools and sports clubs for mentors and instructors.
Sports:
 Establish after school activities and school sports leagues.
Education:
 Provide mentors/tutors
Health:
 Improve general health issues for children and families
Welfare: 
Establish and implement a support system for family members to sustain the children's development.